The business was founded by Andrew James Dando in Midsomer Norton near Bath in February 1915. After serving in France during WWI he moved to Bath and was in partnership with his brother Arthur ( another brother, George also had an antique shop in Bath) at Princes Buildings on George Street, later opening his own shop at 13 Old Bond Street (below Milsom Street)
In 1947 A J Dando supplied a Hepplewhite secretaire bookcase which was to be a wedding gift to HRH Princess Elizabeth & Prince Phillip from the City of Bristol, the bookcase was presented containing a selection of Bristol Porcelain & Glass.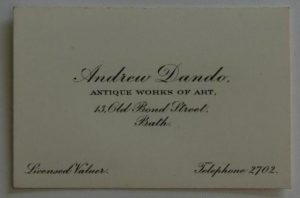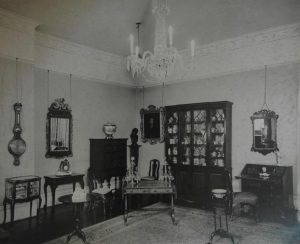 In 1956 the business moved around the corner to 4 Wood Street where it was continued by his son Gordon who became one of the leading provincial ceramics dealers as well as having an extensive stock of period furniture. Gordon Dando was regular exhibitor at antique fairs held in Bath at the Octogon and also at the Assembly rooms, he also exhibited for several years at the International Cermics Fair in London.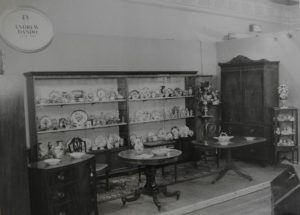 In 1977 Gordon's son Andrew joined his father, later starting his own business with his wife Janice when Gordon retired in 1993.
Members of the British Antique Dealers Association (BADA) from the mid 1950's until 2021 (both Gordon & Andrew have served as regional representative), the business has always been run to high standards of integrity and all items are fully guaranteed in both authenticity and condition.
The 1st selling exhibition, celebrating the 75th anniversary of the British Antique Dealers Association, was held at 4 Wood St in 1993. Titled 'Andrew Dando & other Animals' it was to become an annual event now running each spring under the title 'Animal Dando & Friends' held both in the shop and on the internet available to customers worldwide.
In 1999 Andrew & Janice established their presence on the World Wide Web and were amongst the 1st ceramics dealers to start trading online.
In 2002 Andrew was pleased to be awarded 'Best specialist dealer' (Ceramics category) in the BACA'S (British Antiques and Collectables Awards) the 1st time that this award has been given to a ceramics dealer outside London.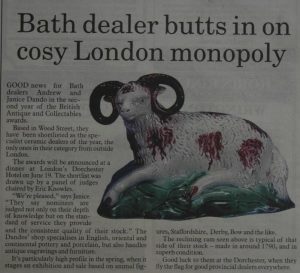 During August 2002 the business was moved to new premises in the centre of Bradford on Avon, just 7 miles from Bath where there were already several well established Antique shops.
PLEASE NOTE THAT THE SHOP IS NOW CLOSED,
WE NOW DEAL EXCLUSIVELY ONLINE AND BY APPOINTMENT.
(UPDATED 20th November 2020)
Andrew  serves on the vetting committees of many of the leading Antiques Fairs in the UK, including: Olympia (June & November), and is currently Chairman of Ceramic Vetting at the 'Antiques for Everyone' fairs held at the NEC, Birmingham..
This site shows representative items from our large stock, all are shown with a price and a full condition report as well as several high quality images, we have nothing to hide!